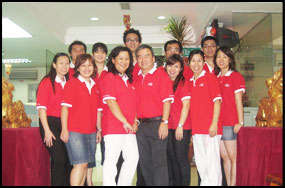 About Asachem
Company Profile
ASACHEM (M) SDN. BHD. is a Malaysian based Industrial Chemicals Distributor, established since Year 1992. Located in Kajang, Selangor which is just 30 km from Kuala Lumpur and 25 km to Kuala Lumpur International Airport (KLIA).
The company achieved very steady sales with the experience in dealing with chemical for industries in coating, moulding, packaging, flooring, construction, plastic, electronics and etc.
ASACHEM representing well known manufacturers around the world, included Hexion Inc. (USA & EU), BASF (Germany), Grace Products (USA), Cognis (USA), ASA Product (Malaysia), Henkel – Loctite (USA), Frekote (USA), Necumer (Germany), Metapor (Switzerland), Zhermack (Italy), Alchemie (UK), Larand (USA) and Claytop (CHINA).
ASACHEM main product is epoxy and the company always recommends the most suitable epoxy resins and curing agents to the individual customer and provides various ranges of industrial chemical products to meet customers' requirement. Products are also available for the following industries such as Flooring, Coating, Electronic, Electrical, Construction, Adhesive, Water Proofing, Mould, Packaging, Metal Stamping, Rubber, PU, Furniture, Prototyping, Surfactant, Detergent and Plastic industries.
We also sell and keep stocks for Pigment, Color Dye, UV Absorber, Filler, Additives, Hotmelt glue/ tools, Epoxy adhesive, Epoxy moulding compound, Mould release agent, mould cleaner, mould sealer, Multi-purpose Board and Block material, and Moulding Rubber as well. ASACHEM uses its experience and technology portfolio to deliver tailored solutions to meet the diverse needs of customers.
ASACHEM provides sampling and technical back up inclusive of hands on product demonstration by transfer technology to meet specific customer needs especially customer who is newly in the industry.
As to increase its competence in marketing and distributor facilities, ASACHEM provide 10 warehouses for stocking, own transport team delivery, 1 Northern branch and 1 Southern branch to provide on time delivery services. With our marketing strategy and location coverage, we are able to serve well our Malaysia and Singapore customers and also extend to the export market of neighboring countries.
ASACHEM always concern of the environment safety and operates towards the highest standards of environment safety control according to international practice and the local laws and regulations.
Our Mission
ASACHEM is committed to conduct its business in accordance with the principles of honesty, integrity, safety, health, observation of the law and responsibility to the community and the environment.