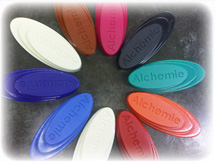 Alchemie
Alchemie are a U.K. Manufacturer of Epoxy Resin, Polyurethane Resin and Silicone Rubber products. We serve a diverse section of industry, comprising of Formula 1, Automotive, Wind Energy, Electronics, Composites, Rapid Prototyping, Oil and Gas, Engineering, Patternmaking, Mould and Toolmaking.
Epoxy Resin:
Gelcoats
Laminating Resin
Laminating Paste
Model Paste
Casting Resin
Polyurethane Resin
Flexible/Rubber Resin
Fastcast Unfilled Resin
Fastcast Filled Resin
Foam Resin Systems
Water Clear Resin
R.I.M. Resin
Vacuum Casting Resin
Resin for Electronics
Epoxy Resin
Polyurethane Resin
Gels
RTV Silicone Rubber
Condensation Cure
Silicone Ancillaries
Addition Cure
Please visit www.alchemie.com for more information.