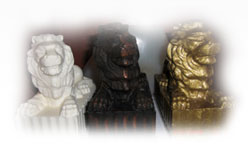 ASACHEM
A series of epoxy systems for application in electronic & electrical, construction, moulding & tooling, souvenirs, flooring, coating, adhesive, fabrication, foundry, art & decoration and etc. ASA Product can be tailormade according to customer's needs.
Main Industry
Moulding, tooling and engineering:
For protoype, product duplication, inspection jigs and fixtures, vacuum forming mould, paper pulp mould, laminating mould, foundry mould and etc.
Asamould 213 ABC: Vacuum forming mould.
Asamould 388 AB: Jigs and fixture.
Coating:
Solvent based, water based and solvent free epoxy coatings. Normally apply for light traffic work place.
Epoxy coating is recommended to apply for floor or wall of tuition centre, office, restaurant, factory and etc.
Also suitable as metal coating, bitumen roadway coating, car park coating, pond coating, cement coating, polystyrene foam coating and etc.
Asacoat 313 AB: Solvent based coating.
Asacoat WB 1253 + Asacoat WB 8358: Water-based coating.
Asacoat MT 1289 AB: Solvent-free for polystyrene foam coating.
Flooring:
Epoxy self leveling flooring is recommended to apply for medium or heavy traffic.
Self leveling system recommended for factory such like food, cosmetic, pharmaceutical, electronic, chemical plant, studio, surgeon operation room and etc.
Hospital and lab also ideal to apply self leveling system.
Mortar is recommended for heavy duty workplace, forklift runway or high moisture surface floor.
Asamultiscrete 4787 AB: Self leveling system
Asamortar 1091 AB: Mortar system
Electrical & Electronic:
For magnetic door lock, transformer, LED and etc.
Asacast 433 AB: Transformer
Asacast 388: General electrical potting.
Decorative & Souvenir:
Transparent clear epoxy to create variety crystal effect by either casting or laminating method.
For badges, trophy, statue, souvenir items, artificial crystal, sticker and etc.
Asasin 2829 + Asahard 3515: Badges
Asasin 142 + Asahard 142: Transparent clear casting
Adhesive:
2-components epoxy glue for general application. Applicable in variety of industries such like engineering, fiberglass product fabrication, metal products, wood products, vehicles, magnet and etc.
Asaglue 3C: General-used epoxy glue.
Epoxy-patch 5 minutes: Handy kit set.
MISC Products
Mould Release Agent: Releasing purpose of epoxy mould and fiberglass mould. » Frekote
Gel Candle: Gel type clear candle in home basis, factory or occasion or restaurant or festival or etc.
Color Paste: Coloring of epoxy/polyester/PU system.
Light Weight Filler: » Larand
Filler and Silica Sand: Filler for epoxy/polyester system.
Full Range of Materials are available! (TOP 25 PRODUCTS)