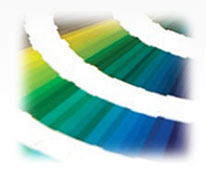 BASF
BASF is one of the leading suppliers of colorants, resins and additives to coatings industry, plastic industry, printing ink industry and other special application industries. The colorants product range includes organic and inorganic pigment, color dyes, effect pigment, pigment preparations for variety of application.
Products listing

Organic & Inorganic Pigments
Wide range of famous brand name include Paliogen, Paliotol, Heliogen, Sico, Lithol, Sicotan, Sicopal, Paliotan, Sicomin, Sicotrans, rightfit, Lumogen and etc.
Suitable for variety application in different industries; Coating, plastic, printing ink, specialty industries and etc.
Pigment Preparations
Brand includes Luconyl, Sicoflush, Pigmosol, Disperse, Oppasin, Euvinyl and Eupolen which designed for coatings, concrete systems, latex, plastic, fertilizers, detergents and etc.
Effect Pigments
Well-known trade name such like MagnaPearl, Lumina, Mearlte, Firemist, Dynacolor and Paliocrom.
Exterior and interior grade provide pearlescent and metallic appearance for coatings, printing inks, plastic, paper and etc.
Color Dyes
Include Neozapon, Basantol, Basacid and Thermoplast designed for plastic coating, wood coatings, toys, plastic, detergent, and etc.
Additives
UV absorbers and HALS with brand name of Uvinul, protected coatings and plastic from UV degradations.
Mark-It Laser-marking pigment is a plastic additive that converts laser energy to thermal energy as to create desired laser marking.
Resins, binders and crosslinkers
Popular brand as Acronal, Basonat, Laromin, Laroflex, Laropal and etc.
Acronal is water-based resins, Laropal is Aldehyde resin, Laroflex is polyvinyl chloride ether resins, Laromin is amine hardener and Basonat is crosslinkers for polyurethane.
2008 Curing Agent Portfolio


Under the Baxxodur brand, BASF sells a broad range of Amine curing agents and Intermediate Chemicals for professional epoxy resin processing. The Company, which benefits from many years of expertise in this area, produces the world's most comprehensive portfolio of amine based curing agents. BASF's complete backward integration that includes even raw materials ensures great dependability of supply…
>> read more