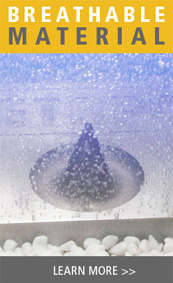 Metapor
Protec is Switzerland base company and manufactures and supplies unique micro-porous air-permeable products under the trade names METAPOR and ESPOR. More than 90% of its sales are generated outside of Switzerland in Europe, USA and Asia. The patented products represent a long awaited breakthrough in material sciences.
The new custom designed products offer significant advantages over existing materials in all applications which require consistent permeability, especially vacuum or pressure related processes. Their market segments cover Thermoforming & Vacuum Forming, Vacuum Clamping and Air-Cushion.
Thermoforming & Vacuum Forming
Micro-porous, air-permeable aluminum delivers advanced solutions for many thermoforming applications.
Eliminates the need to drill vacuum holes, expanding technical capabilities of the thermoforming process at a lower cost.
Material has consistent porosity which offers unparalleled design flexibility and new ways to optimize performance of thermoform tooling.
Vacuum Clamping
In the vacuum clamping industry, drilling and channeling of vacuum plates is widely used. This technology has been proven for years, however, the process is quite time consuming and expensive. Applications with porous sintered materials are limited due to high cost and complex machining requirements.
Metapor vacuum clamping devices permits holding of extremely sensitive parts without deformation, since there are no drill holes or channels. Static jam while ejecting can be eliminated using compressed air, which creates a smooth and even air cushion.
Air-Cushion Applications
Air-cushion transport in paper industry, plastics and metal handling.
Air-cushion transport in semiconductor industry, glass substrate handling.
Advantages & Applications:
Unlimited design intricacy.
High definition and accuracy
Flat surfaces
Surface quality
Faster air evacuation
Prototype and Production Tooling